Pushkar Camel Men Wall Print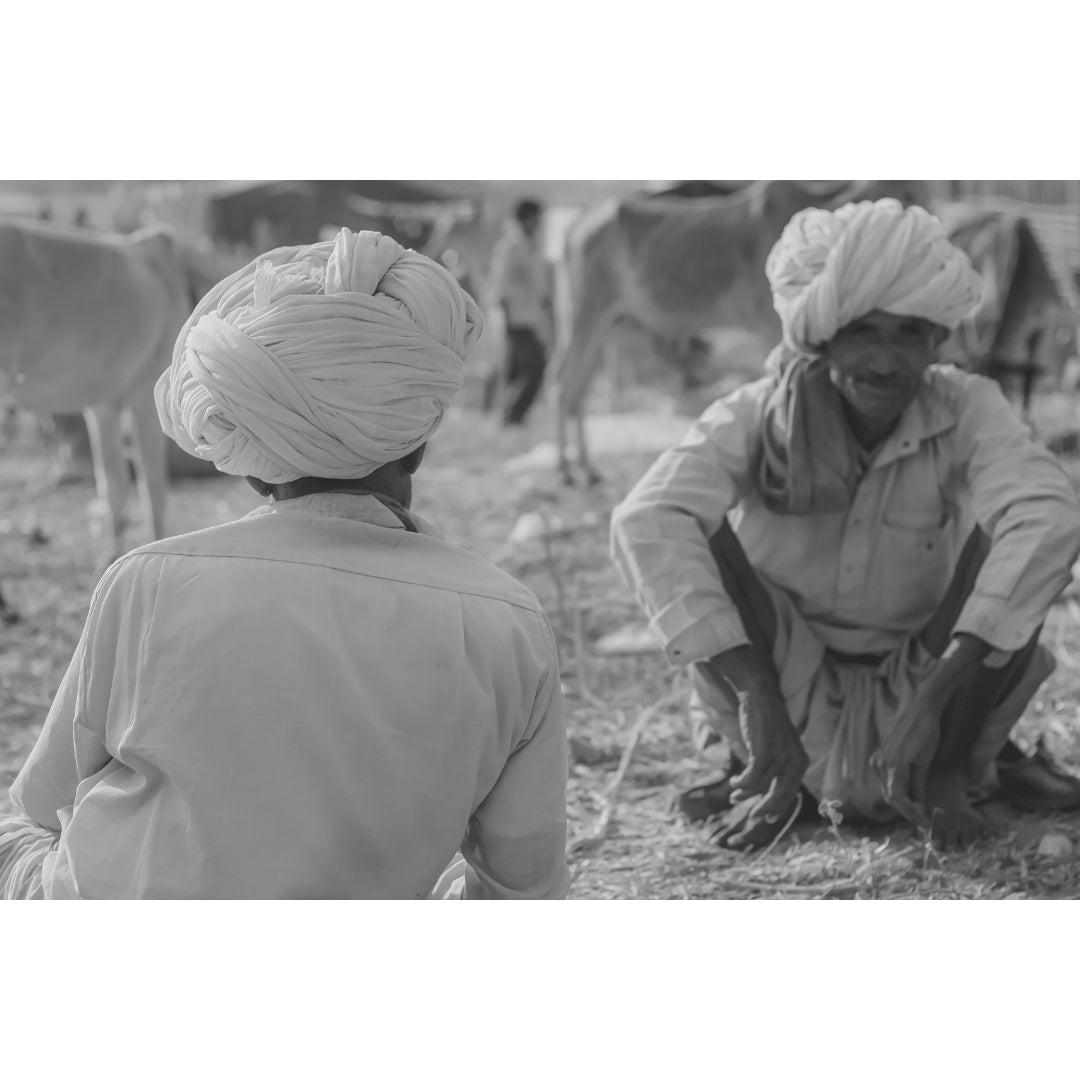 Designer: Alabaster Trader
There are several sizes and paper options to choose from. Please use the drop down menu to determine pricing. Further details regarding size and paper stock  is available below. 
ABOUT THE PHOTO
Camel traders discuss deals, Pushkar Camel Fair, Rajasthan. Thousands of camels, horses, goats, sheep and cattle from across Rajasthan converge on Pushkar for the annual event.
PAPER
Choose from either a matte paper stock or fine art cotton rag archival paper. You can make your selection in the drop down bar.
We also offer a rolled canvas option - please contact us at hello@alabastertrader.com

Please note that it these prints have a 2-4 week turnaround as each one is hand produced by a local printer.
We also offer a framing service - please contact us for more information if required.
SIZES

This print is available to purchase in 3 sizes -
A0 = 841mm x 1189mm
A1 = 594mm x 841mm
A2 = 420mm x 594mm 
 ABOUT THE PHOTOGRAPHER
Claire Macdonald is a Sunshine Coast based photographer with a passion and respect for India and its people.
"I fell in love with this fascinating country more than 40 years ago, when I lived in Delhi for just over a year.  India touched my soul then and continues to beckon. 
I have been fortunate enough to have returned with my camera (and my husband) many times since, travelling from India's very southern tip to the Tibetan border in the north-east, across the Himalayas to the ochre deserts of Rajasthan and the white salt desert of the Great Rann of Kutch in Gujarat.  

I seek to capture in simple images, a window into the soul and unfolding kaleidoscope of India, the diverse character of the Indian people and the incredible light, shade, textures, peeling walls, colours, villages and rich layers of history. 

I shoot from the heart and hope my images speak to your heart too."
Claire Macdonald